The basic view of toxicology is that any substances or compounds that can causes the adverse effect (toxicant) level at dose-dependent manner; even water can also leads to water intoxication when taken in too high a dose level, whereas for even a very toxic substance such as snake venom there is a dose below which there is no detectable toxic effect. Toxicity is species-specific, making cross-species analysis problematic. Newer paradigms and metrics are evolving to bypass animal testing, while maintaining the concept of toxicity endpoints. Toxicity can be defined as any chemical substance or a particular mixture of substances which can damage to any organs of animals as well as plants.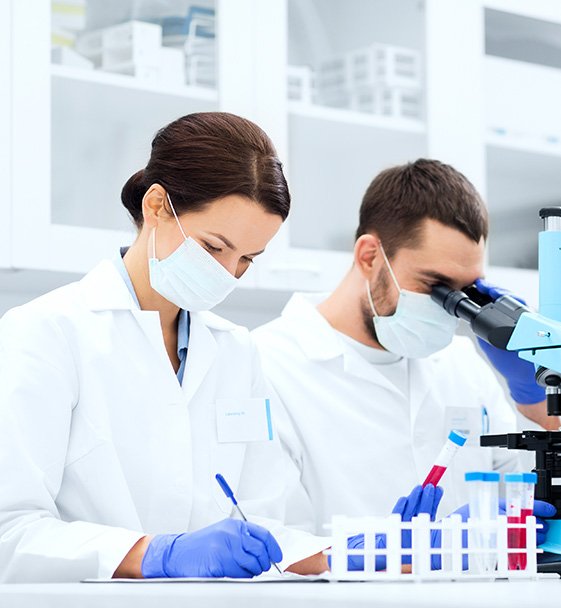 Food Products (Rice, Sugar, Oil, skimmed milk etc)

Herbal/ Ayurvedic Products ( Herbal cream, ointment)

New chemical compounds

Complete research base study of Mushroom varieties

Complete research base study of Honey

Complete research base study of skimmed Milk (protein efficiency test for quality of protein in milk)

Complete research base study of antioxidant properties in different varieties of Rice, Poha

Cross contamination study at pharmaceutical manufacturing unit

Several reaserch base study for vitamins and amino acid profiles and Gluten analysis in various food products

Allergen and GMO analysis in food products

Scientific research base study for product confirmation as Low GI (Glycemic Index)

Product confirmation as Immunobooster through scientific base studies

Product confirmation as Stress relivers through scientific base studies
Analytical R&D is main core or backbone for any pharmaceutical and other research and development testing laboratory. The team of R&D is highly involved to process, development of new methods, new compound through innovation. The research & development has no barrier for of our thought it is continuous process.
Qualitek Labs  has trust for quality of products through research innovation. The lab has separate R&D division for development of testing procedures in area of foods and pharmaceutical products. We have skilled scientific players in area of food, chemical, pharmaceutical and biological disciplines . Our Group Labs  successfully established the herbal thyroid medicine for Client through chemical and biological testing procedure. The lab has also established the penetration rate of skin cream under the in vitro condition for various cosmetic and pharmaceutical giant.
The team of Our Group Lab(ITC Labs) has successfully established the GI (Glycemic Index) testing procedure (In vitro and In vivo) for the various food products to meet the good quality of products for the diabetic peoples.
The team has several bench mark for the development of various testing procedures to solved the scientific trouble of clients in area of food and pharmaceutical products.
The team has successfully completed the quality of rice ( Basmati, Brown), cooking oils through innovative scientific testing procedure for day to day use of food products. The team has handled various research base study in area of food and pharmaceutical products as a Success of R&D path.